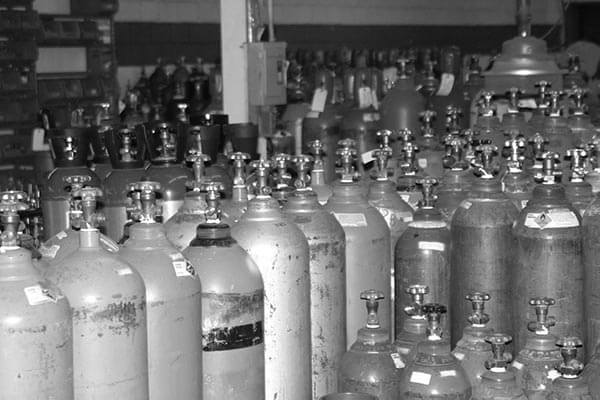 Cylinder Cores Wanted!
All Safe Global is proud to offer safe, environmentally friendly portable gas cylinder recycling services to our commercial customers.
Proper compressed gas cylinders disposal is important.
Our gas cylinder recycling center is approved by the Minnesota Pollution Control Agency and works with other government agencies to assure the safe and legal disposal of old cylinders.
We are actively receiving serviceable out-of-date steel and aluminum cylinders previously in-service for CO2, helium, nitrogen, argon, LP, and many other high pressure gasses. We can safely recycle most compressed gas cylinders, including fire extinguishers, propane tanks (including disposable and MAPP), medical cylinders, steel and aluminum industrial cylinders, refrigerant cylinders, and most acetylene cylinders.
How to Recycle Cylinders
Commercial customers can easily and safely recycle their gas cylinders with All Safe Global. If you're a commercial customer, begin the gas cylinder recycling process by emailing a digital photo to [email protected]. Since there are many different cylinders in circulation, we need to have a correct identification before we can accept gas cylinders for recycling. We'll follow up with potential next steps from there.
Gas Cylinder Recycling Pick-Up Service Available Within ASG Truck Routes
For more than four decades, All Safe Global has been the leading name in compressed gas cylinders, valves, parts, accessories, and gas cylinder testing, recycling and requalification.
With multiple nationally recognized DOT-approved testing facilities and Ultrasonic Examination (UE) capabilities, ASG is your best choice for commercial gas cylinder recycling and refurbishment