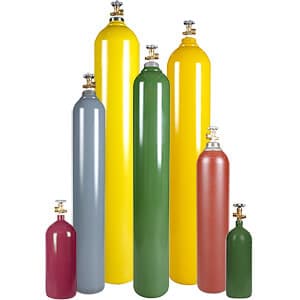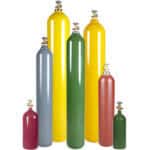 All Safe Global is proud to offer the most complete range of cylinder requalification ND testing services Including DOT recertification, refurbishment, and customizations services available anywhere.
We are one of the largest DOT-certified testing facilities in the country and offer extensive reconditioning and customization services as well, for full-range, efficient, business-oriented cylinder service.
With more than 40 years of experience in the compressed gas industry, legendary attention to detail and unmatched technical expertise, All Safe Global is your trusted partner and the only choice for superior requalification and other cylinder services.
Ultrasonic Examination (UE) and Hydrostatic Cylinder Testing
All Safe offers cylinder inspection services using Ultrasonic Examination (UE) and Hydrostatic testing for gas cylinder recertification.
Hydrostatic testing and ultrasonic examinations are the industry-standard methods of re-qualifying/re-certifying compressed and packaged gas cylinders. This testing determines whether a cylinder is safe for continued use, and is required by the U.S. Department of Transportation for refrigerant cylinders, SCUBA and SCBA tanks, aircraft cylinders, fire extinguishers, beverage (CO2 and CO2/nitrogen mix) cylinders, and virtually all other common compressed gas cylinders—oxygen, argon, helium, nitrogen, hydrogen, air, nitrous oxide, and many others.
The process involves in-depth visual examinations of both the interior and exterior of the cylinder, along with a water pressure test or ultrasonic exam to confirm pressure-holding ability.
All Safe Global is also proud to offer ultrasonic cylinder examination. This advanced method does not require valve removal for testing, making it ideal for specialty gas cylinder recertification. Ultrasonic examination is highly recommended for cylinders used in precision welding, specialty gas mix cylinders, ultra-high purity inert gas cylinders, and where high-value gas needs to be preserved.
Our DOT-certified cylinder service center provides unmatched quality and accuracy in gas cylinder testing, delivering safety, performance, and peace of mind with every cylinder you test.
Alumifurb
Short for "aluminum refurbishment," this exclusive testing and refurbishing process transforms aluminum cylinders to look like new.
Alumifurb is an extremely cost-effective approach to buying new cylinders. We hydrostatically test each cylinder, remove any labels, buff it free of the old clear coat, repaint shoulders as needed and in the correct color for the application, and finish with a fresh, durable clear-coat. You get a cylinder in like-new condition for a fraction of the price.
Keg, Cylinder, and Growler Customization
Promote your brand and identify your property with custom labeling and identification for cylinders, kegs, and growlers.
All Safe can imprint your logo, message, or graphics in high quality on any of the above. Silk screen, wrap, stencil, stamp, adhesive label, or emboss: the choice is yours.
Custom neck rings are also available for cylinders.
Cylinder Exterior Blasting and Painting
For cylinders that are structurally sound but need cosmetic improvement, All Safe offers cylinder blasting and painting.
Our cylinder blasting machines remove all paint, scale, and exterior contaminants from the tank. The new, clean cylinder is then ready for our application of tough new paint.
Cylinder Requalification
Propane cylinders are required to be requalified 10 years after the original manufacture date and every 5 years thereafter. All Safe Global can test and re-certify any size of propane/LPG cylinder, as well as blasting and repainting tanks for a new, durable, and great-looking finish.
In addition to propane requalification, our cylinder testing and inspection services can also aid in oxygen tank and gas recertifications.
CO2 Cylinder Filling
All Safe Global offers CO2 cylinder-filling services for most sizes of DOT-rated portable tanks, including fire extinguishers and paintball cylinders. We fill with the highest grade of CO2 suitable for beverage dispensing, medical applications, welding, industrial applications, and paintball to our wholesale customers.  Contact us to learn more about pricing and minimum order quantities.
CO2 Cylinder Rental
All Safe Global rents full cylinders and fire extinguishers for special effects, industrial use, event safety, and other uses. Below are some of the cylinders we rent; contact us if you need a different cylinder.
Fire extinguishers • CO2 cylinders • Nitrogen cylinders • Oxygen cylinders • Propane tanks • Helium cylinders • Breathing air cylinders • Cylinder carts