Hands-On Training for Business and Employee Fire Safety
All Safe offers fire extinguisher training for employees, to help your facility meet OSHA and insurance requirements.
Our program can be specifically designed to your company's individual needs and schedule.
All Safe standard training includes both classroom and live extinguisher training, to assure that your employees are knowledgeable and confident in case of fire.
Led by an experienced fire extinguisher technician/trainer, the classroom portion includes a short video by The National Fire Protection Association plus an overview by our instructor.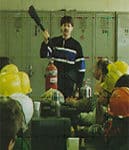 The course covers various types of fires, extinguishers, proper use of equipment, fire do's and dont's, and your specific company policies on fire situations and employee fire response.
The program is simple and to the point, with ample time for employee questions and involvement. Each employee will be tested after the video, and these tests can be placed in employee files as proof of training.
Classroom Training Topics
• Fire and extinguisher types
• Company evacuation plan
• Inspection and maintenance intervals
• Fire fighting: when to and when not to
• Operating hazards and clean-up
Live training takes place after the classroom session. We supply everything you need, including fire extinguishers and expert assistance, so each employee has an opportunity to extinguish a live fire.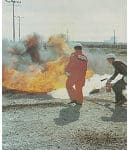 This is the most important portion of the training—once a person experiences the heat of a fire and the hands-on use of an extinguisher they gain valuable experience that's retained for years to come.
If the time ever comes to use an extinguisher in an actual fire, this training is priceless.
Each employee who participates in the hands-on use of fire extinguishers will receive a "Certificate of Completion" that meets OSHA requirements.
Hands-On Training Topics
• How to attack a fire
• The PASS technique
• Extinguisher type effectiveness
• Extinguisher range and duration
$103 classroom fee + $11 per participant
• 30-minute classroom session with video • Hands-on extinguisher training
• OSHA-compliant certificate of completion • Q&A session, with focus on customer-specific issues
Please contact us at 866-958-3473 to schedule and to customize a program that fits your specific requirements.